Barker Gotelee sees success in Legal 500 rankings for 2023
---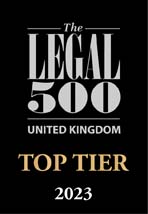 Barker Gotelee is delighted to announce the firm's results for the 2023 edition of the Legal 500 legal rankings, continuing our success in a number of practice areas. The firm has been ranked in a total of 6 categories for 2023, with a number of lawyers named as Leading Individuals or Rising Stars.
Once again, the Barker Gotelee Private Client team is ranked in the highest tier (Tier 1) for Personal Tax, Trusts and Probate, with Legal 500 stating, 'Barker Gotelee in Ipswich has "a true service culture where advice and support feels like it is given from a position of care rather than profit"'. Senior lawyer James Skellorn is once again ranked as a Leading Individual and Ann-Marie Matthews ranked as a Rising Star.
In the Agriculture and Estates category, Barker Gotelee appears in Tier 2, with Legal 500 describing Managing Partner and agricultural specialist Andrew Nicholson as 'an excellent property lawyer and a very pragmatic and sensible individual'. Our Business Services team also ranks in Tier 2 for Insolvency and Corporate Recovery with Head of Insolvency, John Bradshaw, once again named as a Leading Individual in his field. Experienced insolvency practitioner, Sarah Mower also ranks as a Rising Star. Legal 500 describes the team: 'John Bradshaw and Sarah Mower – both are knowledgeable in their field, always on hand, and provide practical advice and solutions'.
Ranked in Tier 3 this year, is the Barker Gotelee Corporate and Commercial team, 'extremely approachable, very knowledgeable and a delight to deal with', as well as the Property Litigation department with recently-appointed partner Mark Wrinch named a Rising Star in this area. The Family team ranks in Tier 4 this year, with Legal 500 recognising Head of Department Rory O'Brien for his specialist knowledge and experience working with high net-worth individuals and ex-pats, representing numerous clients in Dubai, Abu Dhabi, Qatar, Bahrain and Oman.
To view the Legal 500 rankings in full, click here.
For more information on our range of legal services, please call the team on 01473 611211 or email bg@barkergotelee.co.uk